Our Process
One of our greatest strengths at Tango Pools is our custom in-ground master pool designs, starting with a comprehensive one on one in-home consultation of our clients' needs for their outdoor living space. We focus on functional areas to entertain as well as proper placement of the pool in an effort to maximize sunlight while providing sufficient privacy.
First, we gather rough ideas of the kind of pool desired considering various factors including: size, shape, and location. Next, we review our options for the type of pool being installed choosing from the following; a vinyl liner, fiberglass, or a Gunite pool. Finally, we move to the design process and create a complete backyard drawing that reflects each clients home and style.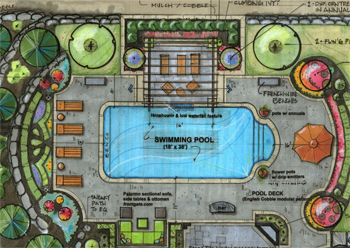 Our master pool plans structure the drainage of the pool as well as irrigation and fencing layout. Pool drawings done in black and white or full color can also be put on a disk or file for our customers to review before and during construction.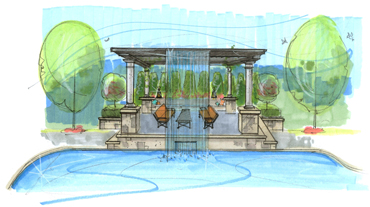 Many elements can be added into the plan such as waterfalls, fire bowls, raised seating areas, and outdoor kitchens. These elements help to complete the project and add that extra touch which makes the job unique for each client. Once a design is crafted, we guide our clients through the entire process of buying a pool and supervise the entire project based on our design.
Our main focus is to protect our client's home and ensure the project has the best level of workmanship and quality in the industry. Tango has the unique ability to handle any size pool project from start to finish. We pride ourselves on executing and delivering above and beyond our client's expectations.